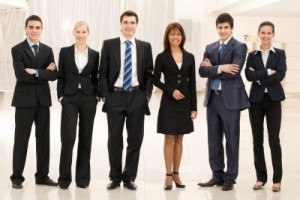 During your second year of law school, on-campus interviews will start.  It is imperative that you have a least one good suit.  For men, we recommend the traditional dark suit, black or dark blue with or without pinstripes.  Alternatively, a nice grey suit will work.  Although the trend was to have cuffed pants, that trend has seemingly been relaxed and really does depend upon what kind of pleats your pants have.  Go with the traditional white dress shirt with a blue, yellow, or green tie.  Only wear suspenders if absolutely necessary.  Make sure you wear brown or black socks and have a nice pair of black shoes.  At this juncture, we do not recommend wearing cuff-links or having your initials embroidered. Places that we recommend for all of these items include: Men's Wearhouse, Marshalls, and Ross.  You can also get great deals on-line from places such as SmartBargains.Com.
For women, we also recommend the traditional dark suit.  We also recommend skirts as opposed to pants.  Heels as opposed to flats.  Ladies remember to wear your nylons/stockings.  Please make sure that your blouse is professional and does not expose too much cleavage.  Remember you are interviewing for a legal career, not a night out on the town.  Marshalls and Ross will also suit (no pun intended) your needs.  However, you can also try Ann Taylor and Lane Bryant.  SmartBargains.Com also has deals on women's suits and blazers.
Now it may seem tempting to buy gift certificates to all these places.  However, trust me, if you take the time to actually piece together an outfit, it will truly be memorable.